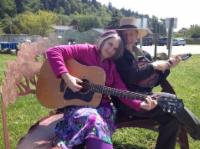 "Labor Pains"
Once again the Earth, in her majestic orbit, takes us toward summer and further into God's re-creation of the blossoming year. Yet, if we undergo a kind of rebirth, it is not without its labor pains. This week at Unity, we'll discuss experiencing that resurrection of Spirit while, yet, grappling with the difficulties of our human dramas and sorrows --- whether in world events or in our own hearts.  Reflections by songwriter and speaker Doug Benecke with uplifting music by Sallie Spirit.
Doug is a lifelong musician and student of the human spirit. He holds a religion degree from Oberlin College and works as an addictions counselor. Doug and his wife, Sallie Spirit, share talks and music at churches all around the Sound.
For the Zoom login links, subscribe to our newsletter here.